We start the year by revisiting one of our favourite subjects. We have been advocating for Web Push notifications for a while now, as we see it as the next great marketing move you can make.
Web Push Notifications in 2018
Push notifications proved to be one of the best things that mobile apps brought us with the rise of the app stores. Following that trend, we are certain that we'll see this same phenomena to be true for websites.
Regardless of whether you're just thinking about or you're already working to add push notifications to a web app for your store or your personal website, you'll want to choose a platform that not only allows you to send these messages but that also adds other mechanisms that will allow you to serve content, automate how you send this notifications and integrate with other software like your CMS or CRM.
Notificare is one of the most powerful platforms out there that will enable you to do just that. Benefit from a solid infrastructure that is already serving thousands of clients, millions of devices and sending billions of notifications.
Browsers' Adoption
The big web browsers already support web push notifications. Together, Chrome, Firefox, Opera and Safari account for more that 80% of the market share for desktop browsers. Last year, in December, we've also seen confirmation by Microsoft that Edge will support web push notifications soon, which is basically great news since it's the browser which comes pre-installed with the Windows operating system. Although there is still no advances for web push support in Mobile Safari, we see that Apple is working to bring support for Service Workers in Safari Technology Preview, which would enable Web Push support. Currently, it's still not possible, but we do believe that it will eventually make its way to your iPhone and iPad.

What You Need
There are a couple of requirements you'll need to meet to eventually reach as many clients as you can:
Running your website under SSL
Access to Firebase Cloud Messaging (free)
Apple's Developer Program (if you wish to support Safari Website Push)
An account with Notificare
Once you meet these requirements, your web developers will have to implement our SDK. This will eventually cost you between 1 to 8 hours of development, depending on the amount of features you'll want to implement. If your website is built in WordPress you might even minimize development time by simply installing our official WP plugin.
What You Should Expect
Every case study from our clients (and from some of our competitors) reveals that Web Push notifications, in general, have a higher ROI than other channels. It is a great way of complementing your current email campaigns, increase traffic in your website, bring customers back with automated messages based on certain events, like an abandoned cart or simply alerting users based on customer segmentation.
How You Should Do It
There are a couple of key techniques that you should be aware of before adding push notifications to your web app. Since we've been doing it even before web push was widely adopted by all the major browsers, here some lessons we've learned over the years:
Increase Opt-Ins
One of the most common mistakes when implementing Web Push notifications is to prompt the visitor with the permission to use notifications without a clear explanation why you need it. By adding a simple introduction to why and how you will use notifications, you will see a huge increase in adoption. This can be done by overlaying a small tutorial, redirect users to a detail page, or simply show a block of content, before actually attempting to subscribe the visitor:

Only when the visitor is comfortable and interested in what you are offering, you should subscribe the browser for push notifications which will eventually show a permission dialog (example shown here is for Safari Website Push, it will be different from browser to browser):

Failing to do this will dramatically decrease your opt-in rate, as many visitors will not authorize you to send notifications without some information or explanation about how you will use this.
Provide an Opt-Out
Pretty much the same way you provide some explanation about web push notifications and how you are using it in your website, you will also want to provide a way for them to opt-out. One of the best solution we've seen and the one that works best, is to implement a settings page where visitors can easily turn notifications OFF and subscribe to or unsubscribe from certain topics.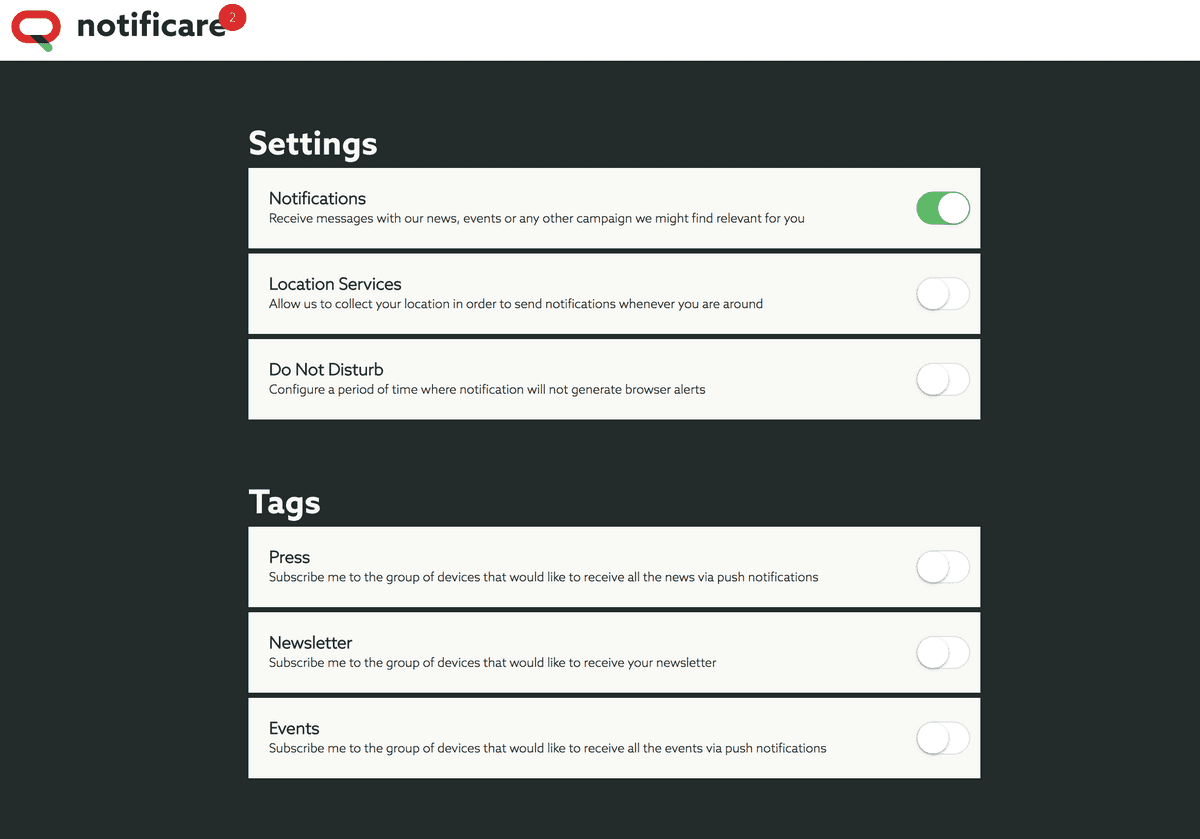 Adopting an approach like this one will effectively increase trust from your visitors as well as provide a great push experience, since visitors can control what and when they receive your notifications.
Offer an Inbox
Another great way to engage visitors is to implement our message inbox functionality. Providing an easy way for visitors to read missing or past messages will substantially increase the open rate and conversion of your messages.

This is a great feature of our SDK that can be easily implemented with a couple of lines of code. The benefits for your website are far greater than the cost associated with this development.
Automation, Automation, Automation
One of the great features in Notificare is the ability to send automated messages in response to certain events. Those events can be tracked pretty much the same way as any analytics software. We will automatically track many things for you, like visits, notifications received or opened, but you can also track anything else you might see fit. From buttons being clicked or pages being visited you can basically track anything you want and afterwards all these events can be transformed into actionable notifications.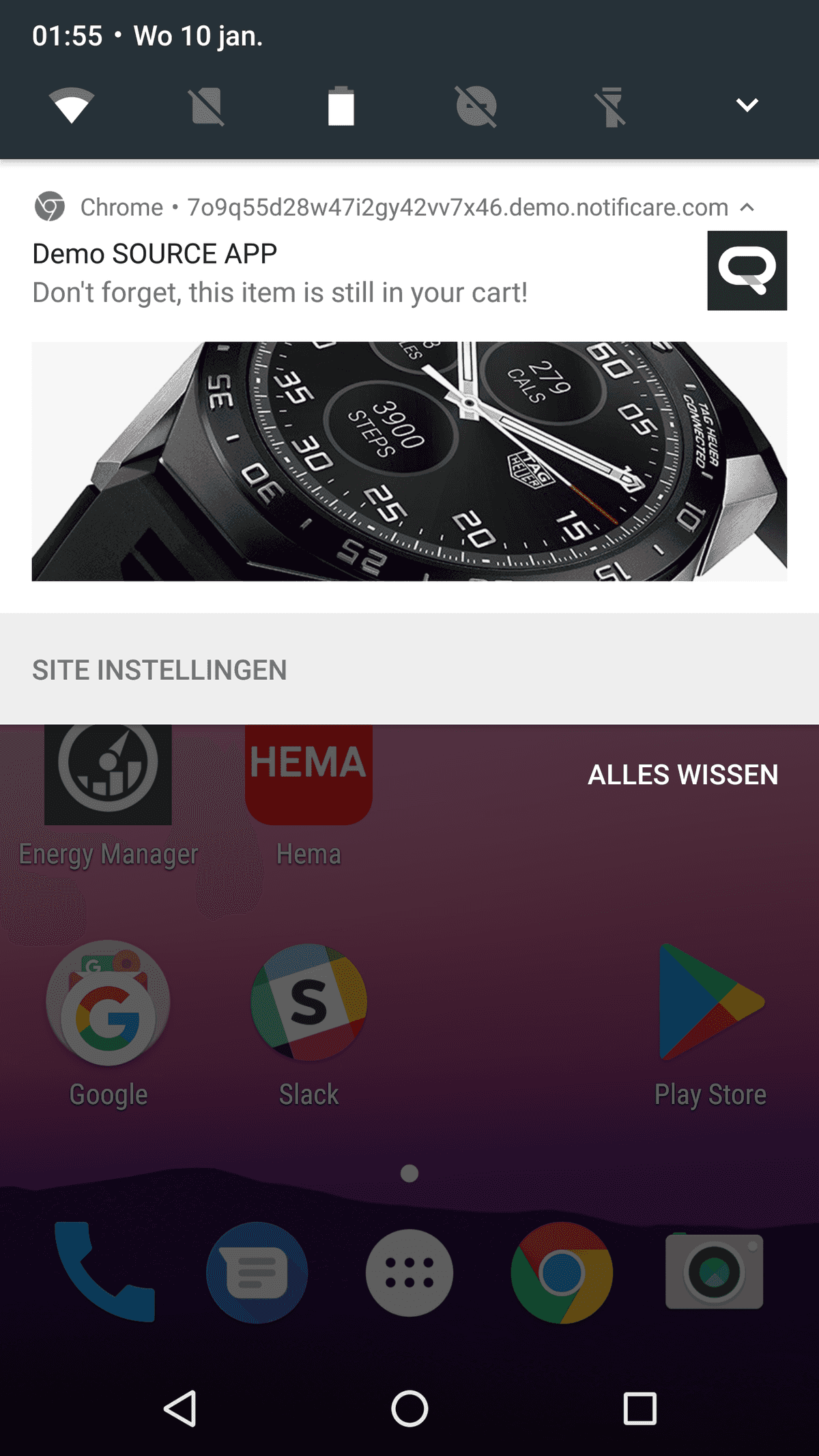 Easily bring users back to your website after certain events, like an abandoned cart, a product visited recurrently or pretty much anything else that makes sense to your business.
Recap
In 2018 one of the biggest trends in web development will probably be the full scale adoption of web push and we don't want you to fall behind. Make more out of your website without the need for costly campaigns or complex features that drain your budgets.
If you are interested, don't hesitate and get in touch with our Sales Team and we'll give you a live and guided demo for web push notifications.