Push Notifications in Microsoft Edge

Making Edge the latest browser to fully support web push notifications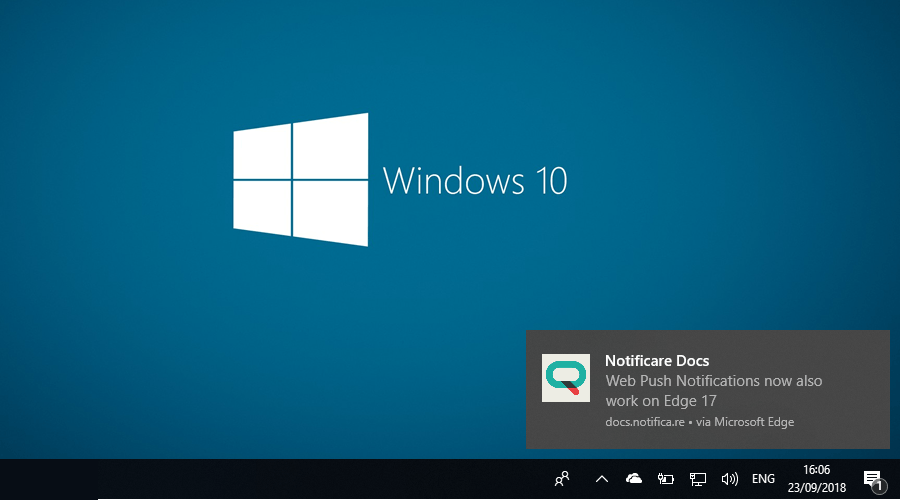 We are happy to confirm that Microsoft Edge 17 fully supports web push notifications. After much delay, we are thrilled to see Microsoft's browser join the club.
Windows 10 Update
The feature was part of the April 2018 update, which started rolling out in early May this year. This makes Edge the latest browser to fully support web push notifications.
Using our HTML5 SDK
If you are using our SDK for web push notifications, no action is required. With the current version, you are already reaching Edge users in both desktop and Android devices. We did improve how things work in version 2.0, although you do not necessarily need to update it, if you are looking to support any web push enabled browser.
State of Web Push Notifications
With this addition to the list of browsers that support web push notifications, more than 85% of desktop users can now be reached using web push notifications. There is still one major browser that we would like to see supporting web push notifications and although there is some progress adopting HTML5 APIs, Safari for iOS still does not offer any solution for push notifications.
Below, you'll find the current support for all the major browsers out there:

Looking into Web Push?
If you are looking into implementing push notifications in your e-commerce website or progressive web app, don't hesitate to contact us via our support channel. We can offer you a guided walk-through and a hands-on demo to quickly get you started with web push notifications.