NFC tags for contextual marketing

Drive customers into mobile and web apps with a simple tap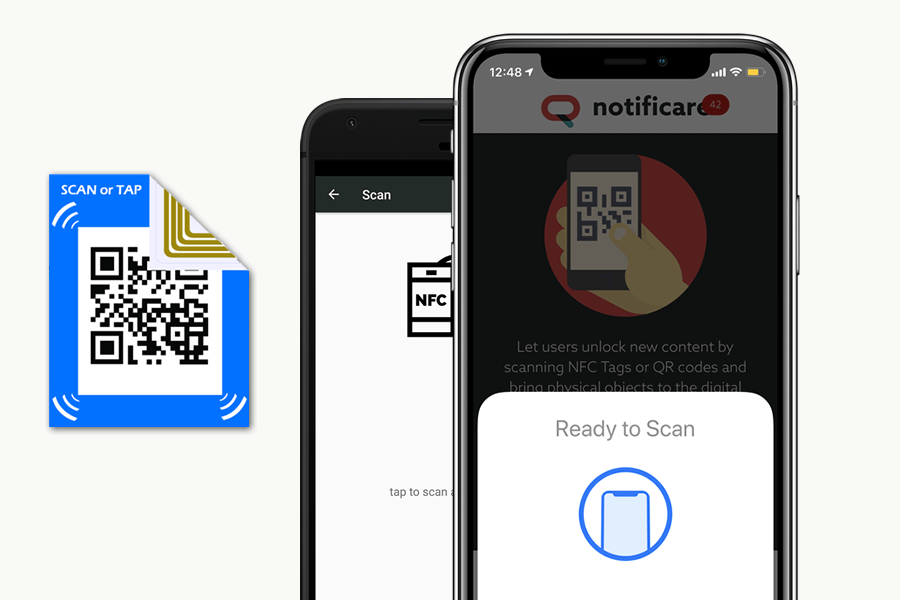 With the rise of NFC readers support in smartphones, brands have now a powerful new opportunity to engage with customers in a cheap and simple way.
Last year we released Scannables, which aims to streamline how brands take advantage of NFC Tags and QR Codes. Triggered by the fact that Apple finally added support for reading NFC tags in iOS 11 when it first introduced iPhones 7, 8 and X, we quickly realized that this functionality would gain some traction among consumers.
A long supported feature of Android phones and more recently in the new iPhone Xs and XR, NFC tags enable you to drive customers into mobile and web apps with a simple tap.
5 Reasons to adopt Scannables
Although QR Codes are great, nothing beats the frictionless tapping against a tag to unlock new information, reward or promote online or offline products of NFC tags. With Scannables you can have both technologies working for you. When possible NFC tags will be used but when it's not supported you can still use QR Codes to accomplish a myriad of goals.
Unlock new content
Does your product or service have a bigger story to tell than can fit on an ad or a shelf-talker? Could it benefit from a video demonstration? Looking to allow users to register a product easily? Scannables are a great solution if you are looking to offer your customers a simple way to unlock content by using an embedded NFC Tag in a shelf-talker, POS display, mounted poster — or even the product itself!
Rewarding customers
Using this proximity marketing strategy, you now have access to an easy way to distribute discount coupons inside your brick and mortar space. Used in combination with other products in our platform you can easily transform a scan into a digital card that gives users reasons to buy.
Promoting
Trying to increase your mobile app downloads? Looking to drive more traffic to a certain product page? Scannables is the solution for you. By assigning content to a NFC tag you can efficiently manage how you drive users to any page in your website or mobile app.
Segmentation for 1:1 personalized marketing
The more you know about the preferences and purchasing habits of each target audience member, the better you can reach them at the right time and the right place with the right offer. NFC tags provide a user-initiated connection between customers and your marketing team that enables you to categorize users for every single scan automatically.
Measure and iterate
Watch how it all plays out with our Scannables' built-in stats. Every single interaction is tracked and aggregated by time, letting you get powerful new insights over customer behavior and ROI.
What do I need?
NFC tags come in many different shapes and sizes. Unlike UHF RFID tags which have different read ranges based on the size of their antennas, NFC tags all have similar read ranges. As long as your NFC tag has the correct IC type, such as the NTAG203, it is writable/readable by smartphones. For every use case you will find a tag that fits best. Basically, larger tags are easier for people to find and require less precise placement of the phone in relation to the tag. Smaller tags take up less space and can be used discreetly in your products.
There are also solutions made with all kinds of materials. From paper based tags, which are ideal for printing, to epoxy based ones that can endure any environment, there's a wide offer of solutions you can choose from.
Depending on the scale and the type of tags you choose, your ROI for a solution like this will always be favorable and achievable in a short amount of time. The functionality itself is included for free in any of our plans and empowers you to create any number of tags. The cost of physical NFC tags range between a few cents per unit, for the paper based solutions, to a few dozens of Euros for solutions expected to have a longer lifetime.
Interested?
We are here to help, either to demonstrate how you can make use of Scannables or to guide you when acquiring NFC tags, we are, as always, available via our Sales Department.