For many retailers, these are challenging times. Where supermarkets, drugstores, DIY stores and garden centers are breaking records online and facing peak loads, fashion retailers and retailers of other non-essential products are witnessing a massive drop in sales. As a retailer, how do you deal with these enormous challenges when it comes to customer engagement and loyalty?
Over the past few weeks, we've read about how retailers with an omni-channel strategy are winning over retailers that are less digitally and mobile-oriented. However, ordering online has its challenges as well, due to the high demand, most delivery and pick-up slots of supermarkets are already taken for the upcoming weeks, and deliveries take longer. This capacity cannot be scaled up overnight and means that most households still have to rely on old-fashioned shopping. Furthermore, for those stores that are still open, government measures are aimed at safe shopping, which means that the capacity is limited here too. Besides, there is often a shortage of certain highly desirable products such as hand gel, toilet paper and canned vegetables. Things that previously did not have to be taken into account as a consumer, but are now faced with on an almost daily basis.
Email as the foundation
For retailers, it is crucial to provide the customer with the right information at the right time. Email is often the primary channel to proactively inform the customer about the changing service, the new rules and other measures that were taken to make a shop visit as safe and attractive as possible. Customers are informed and have the email stored in their inbox as an archive that can be consulted when needed. This channel is powerful and usually email is the retailer's most widely adopted communication channel.
Push for contextual communication
In addition to email, many retailers offer an app, and this allows many additional opportunities to reach the customer. By using proximity and timing, in addition to the customer profile data, it is possible to respond very accurately to situations and developments. Cases in which you, as a retailer, want to stay ahead of the customer and offer a service when they expect it. Think of:
A push notification that - based on GPS - is triggered when someone visits a store with visitor rules;
A push notification about new opening hours;
A chance to inform your customers when the hustle and bustle is less than expected. Notifying them it's now a good time to visit the store;
A push message with a new order status;
A reminder to your customer that they still have the opportunity to change their order;
In-app messages with ordering information before users filled-up their shopping basket. So they will not be disappointed at checkout because delivery or the desired pick-up point is not available;
Informing your customers when products are back in stock, or if products will not be in stock for a while.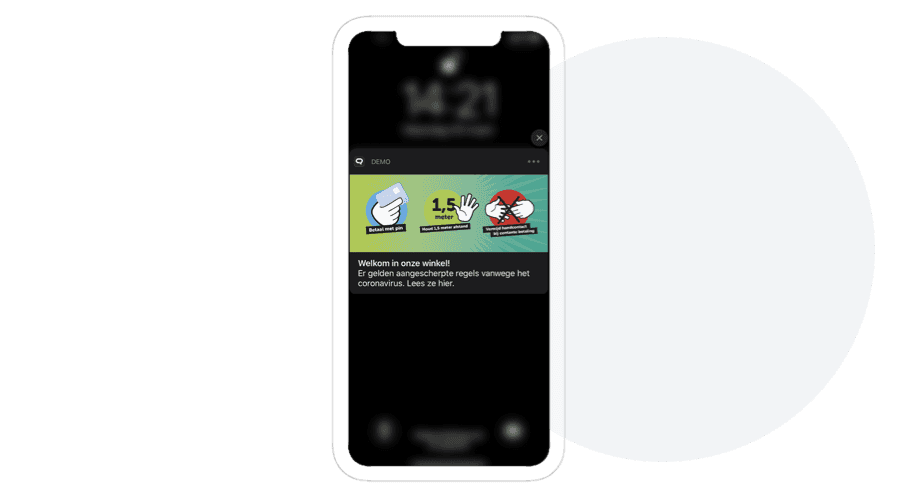 Retailers are sometimes reluctant when it comes to using push notifications in these times, thinking it may seem too intrusive. But, this doesn't have to be the case at all. In fact, customers appreciate receiving information that removes uncertainties or helps them move forward. Being able to segment properly is crucial to stay relevant. The fear of intrusion can also be partly solved by sending push notifications without sound or vibration. Or, by sending an in-app message straight to the inbox of the app removing any possibility for customer disruption.
SMS as a rock in the sea
SMS is very suitable for messages that are mainly text-related and inform about the status of delivery times or other status updates, for example, for customers who are not using the app and have the push notifications off or muted. With SMS, merchants are not limited to communicating with users who have downloaded the app, and availability is far more wide as it does not require cellular data or a smart phone.
Mobile wallet (for easy-to-use contactless interactions)
More and more retailers see the value of the Mobile Wallet as an additional channel for customer engagement. Not only for loyalty programs, but also for offering services. For example, a retailer could use our Loyalty solution to send a digital card to customers who have placed an order and want to pick it up at a pick-up point. When you, as a user, come within a certain radius of the pick-up point, the card in the Mobile Wallet is conveniently prompt in the lock screen. This way, you don't have to unlock your phone, launch the retailers mobile app and eventually look up the card. Instead, you can simply show it to the cashier for a quick scan right from the device's lock screen. Digital cards can also be remotely updated which can be a very effective one-to-one communication channel, thus bringing your card to life.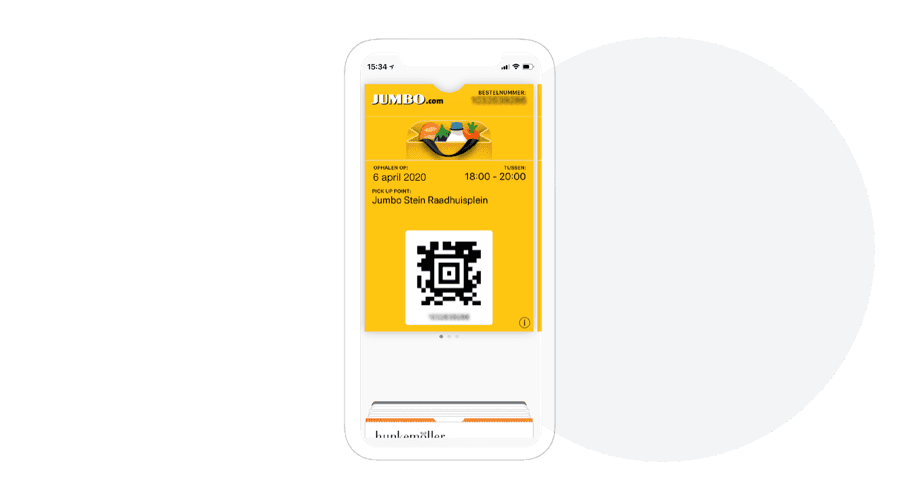 Recommendations
As a retailer, you have to take a close look at your current channels and use different channels with different timings for different audiences. If your segmentation capabilities or the use of the channels are limited, it is well worth to optimize your channels' synchronization. If relevant channels are missing, that could add value to your strategy, it is also recommended that you start as soon as possible to gain knowledge and experience and make sure you don't fall behind your competition.
Let your customers decide where they want to be reached, between all digital touchpoints you offer. And, together with your team, think about what kind of information will make your customers' life a little better by meeting or - even better - exceeding expectations.
Ready to add super powers to your strategy?
If you would like to know more and you have any questions, we are available via our Support Channel or drop a line to our Sales Team.