Please Update Your App

How to prompt users to upgrade their apps with In-App Messaging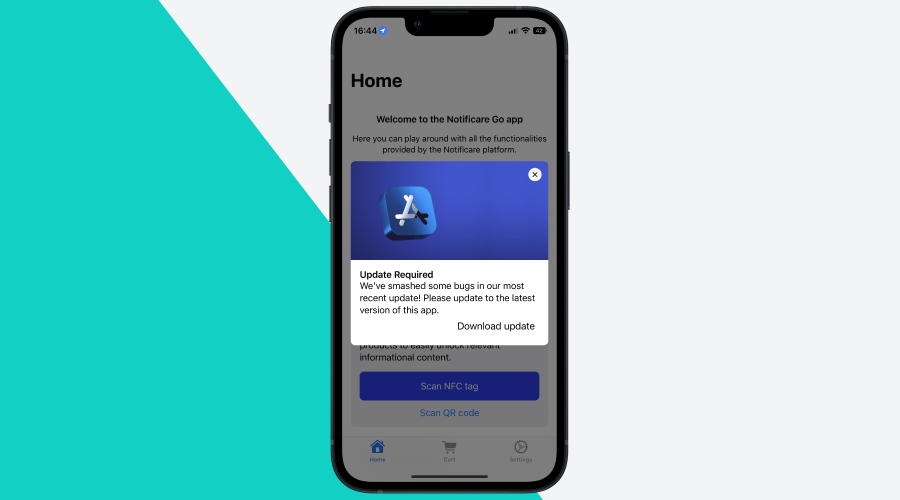 Last week we've announced In-app Messages. And while it has been achievable for years to present such content to your audience, we now have made it super easy for the marketer to manage this, and best of all; zero development is needed.
Now with this new marketing channel in your hands, suddenly, limitless use cases arise to target users on the spot. And one of the common best practices for an in-app message is to alert your users of a fresh update of your app.
In-App Messaging lets you engage your users while they are actively using your app. For example, you can prompt them to upgrade and easily create a seamless experience in your app. Reduce churn by offering a compelling upgrade experience and maximize the value of your app by using messaging to help drive conversions.
Help more users upgrade their apps by using in-app messages
Although automatic updates are default on iOS and Android, as an app publisher, you're still are not in control when they happen. And some of your users might have turned OFF automatic updates.
Therefore you want to draw your users' attention to the new update of your apps as quickly as possible. It may be that a bug has been fixed or a new feature has been added. Of course, you can also notify your audience by sending a remote push notification. But with in-app messaging, you can grab the user's attention right when they want to start using your app.
The Card
With the in-app messages feature, we have predefined three different types of in-app messages; The Banner, the Card, and the Fullscreen. And to alert your users to an app update, the Card might be the most suitable solution.
By choosing this type, your users will get a friendly warning in the center of the screen. Moreover, you have the possibility to add an image, a title, a description, and, most essential, the CTA to the App Store or Google Play.
This example assumes an upgrade to Apple's App Store, targeting IOS users only.
You can define two Call To Actions(CTA) on the card type. Yet, for this example, we have chosen to focus all the user's attention on one single CTA. The link goes straight to the App Store, and you can enrich this action by logging an event, for example, to let you send a follow-up message using Automation Connectors.
Select the right audience
With audience selection, you can target only to the users that need to see them. By default, all your users will be eligible for the in-app messages. However, when using a custom criteria, you can select your users that didn't update yet.
Give it a try
In-App Messaging is a proven way to drive more revenue from your existing users. The In-app Messaging service will deliver automated, personalized messages to your app users on your schedule. The feature is easy to use, free in all plans and proven to boost user retention. Just select the time and date of the message, pick a type, include some content and off you go.
If you have any questions or want to know how to implement it using our latest SDK, feel free to email us.