Location-Based In-App Messages

In-App Messages became an essential part of your mobile marketing strategy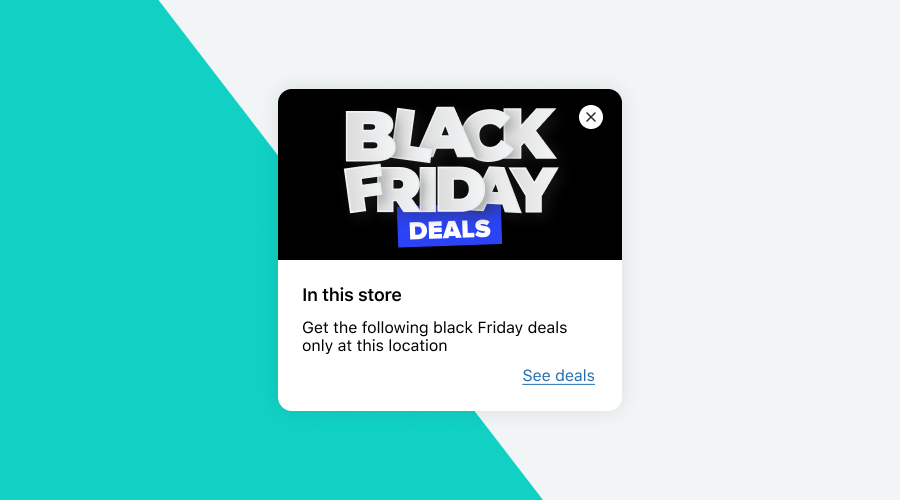 80% of consumers use their mobile devices while in-store to help them shop, with the majority of those using their devices to search for product information and read reviews. There are several ways that location-based in-app messaging can be used to further engage your customers during this important moment in their buying journey. In this post, we will discuss how to use in-app messaging with your location-based mobile marketing strategy.
Geo-fencing, location-based messaging explained
A geo-fence is a virtual perimeter around a location that you can use to trigger a message. It works by using the device's GPS/Wi-Fi signal to determine its current location, and then comparing that information against a pre-defined radius or polygon within which you want the message to appear. When the user enters or exits this area, they receive a notification. This type of messaging is particularly effective for businesses with physical locations, as it enables them to communicate with customers based on their proximity to those locations (e.g., "You are near our store; come check us out!").
In-App Messages quickly became an essential part of a mobile marketing strategy, and with its integration into location services, In-App Messages targeted to specific locations or regions can be displayed to users as they are opening your app.
Location-based In-App Messages
Location-based messages are a great way to improve customer engagement and retention straight from your physical location. With this type of message, you can use location data to personalize the content of your message to the circumstances at hand. For example, with remote push notifications, if someone is walking by your store, you could send them an offer for 15% off their order if they come in today. Furthermore, with In-App Messages, you can immediately reengage when they actively open the app while they are at your venue.
A personalized experience that makes them feel valued
Location-based In-App Messages can help you give your customers the experience they want in a few key ways:
Personalization: Customers want to feel valued, and personalized messages are a great way to do this. It's also important for your customers to feel like you're paying attention to what they're doing and where they are. When it comes down to it, this means that you should be sending them relevant content at appropriate times so that it feels more like an extension of their experience with your brand. For example, if someone walks into a store on Black Friday weekend, you might want to send them a message reminding of the deals that are happening that day at that specific location.
Engagement: As mentioned earlier, location-based messaging allows brands to reach out directly with offers based on consumers' shopping habits within nearby stores or restaurants — which increases both engagement and sales conversions while making sure each consumer receives only relevant information based on their location.
Localize your content
In conclusion, location-based In-App Messages have the potential to drive higher customer engagement and retention. By targeting your message to the right person at the right time and place, you will be able to offer more personalized interactions, which can help increase sales and boost loyalty. These are just a few ways that you can use in-app messaging to improve customer engagement, retention, and loyalty.
If you have any questions about how to get started with this type of messaging, feel free to reach out or create a demo app straight away.