We are thrilled to announce the public beta access to our two new channels: Email and SMS. Start today with multi-channel messaging that will take your campaigns to a whole different level.
Once again our incredible engineering team pulled off one of the most ambitious releases so far. It was more than six months of hard work, learning, testing and scaling to achieve a huge milestone which is also an important step forward for the future of our platform.
Included in All Plans
These two new channels will be available for all our clients, independent of the plan you're enrolled in. We are introducing a new pay-per-message model that changes the way you create messaging campaigns.
This will also allow you to quickly start sending email and SMS messages with minimal investment and increase your budget as you see fit. Our email packages range from as little as €100 up to €5000 and can be acquired via our dashboard with a simple click:

And pretty much the same is available for SMS:

These amounts will then be credited to your account balance and can be used to send email and SMS messages and buy SMS numbers (you need at least one number to start sending SMS messages).
There's also the possibility to bring the cost of each individual message down. If you intend to send more than a million messages a month, your cost per message can be discussed directly with our sales team.
Email
Email is still a topper when it comes to ROI in marketing campaigns. It is also a pretty interesting solution for transactional messages. Above all, it's a pretty cheap solution when compared with other channels (PPC, Media Mentions, etc).
In Notificare, the price per email message is €0.00027, which means that 1000 messages will cost you €0.27. Like mentioned before, if you're planning to send more than a million messages a month, we are happy to discuss an even lower price per message.
Powerful Composer
With Notificare, you will be able to create email campaigns pretty much the same way you do when using Push. We have built a super powerful drag & drop interface that will allow you to compose messages from scratch in no time.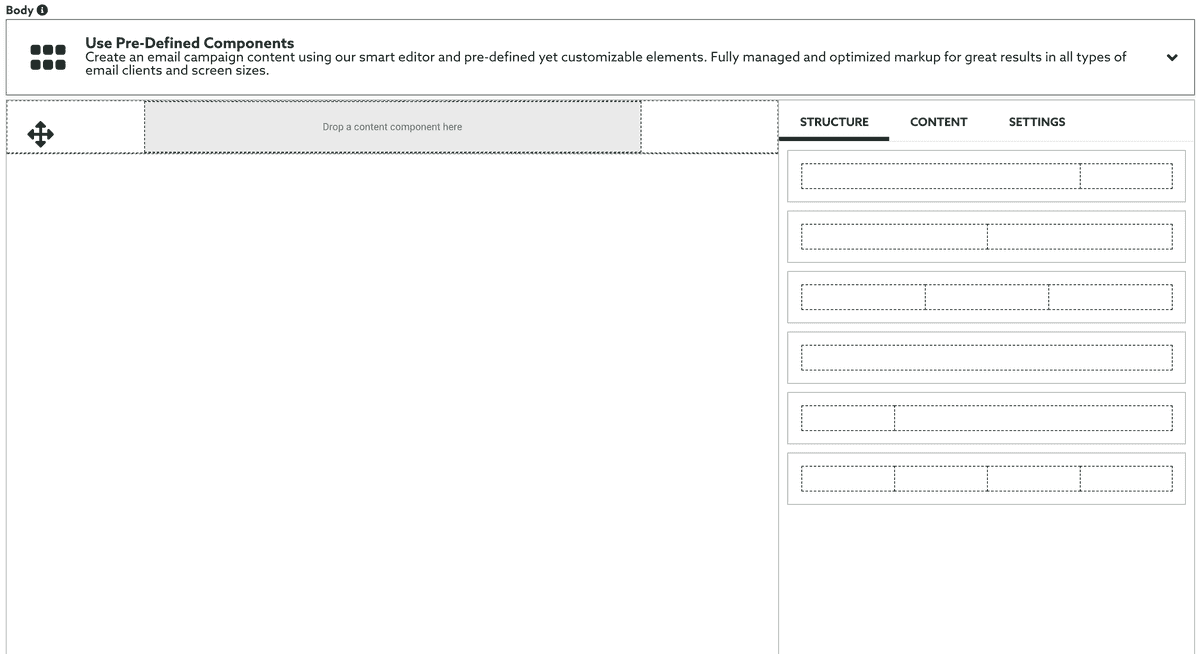 With this drag & drop interface you start by dragging structures to form a grid system you wish to use in your email. You can then easily arrange content components inside those grid structures: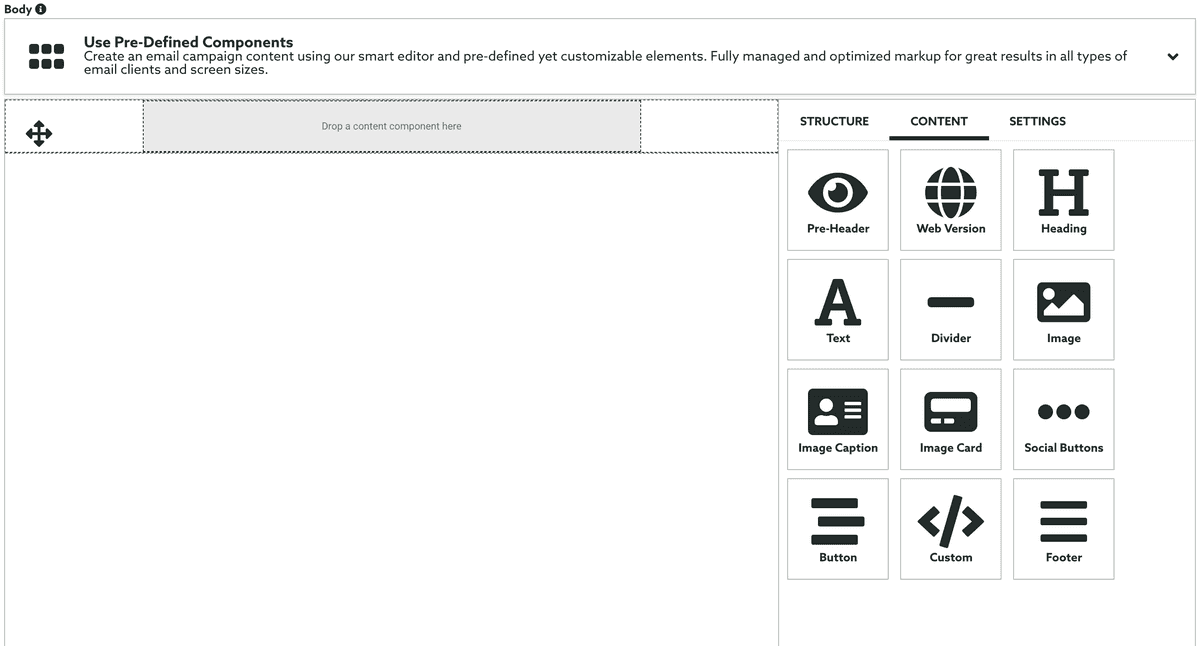 Every piece of content is customizable, allowing you to define everything from colors, background images, typography or padding and margins: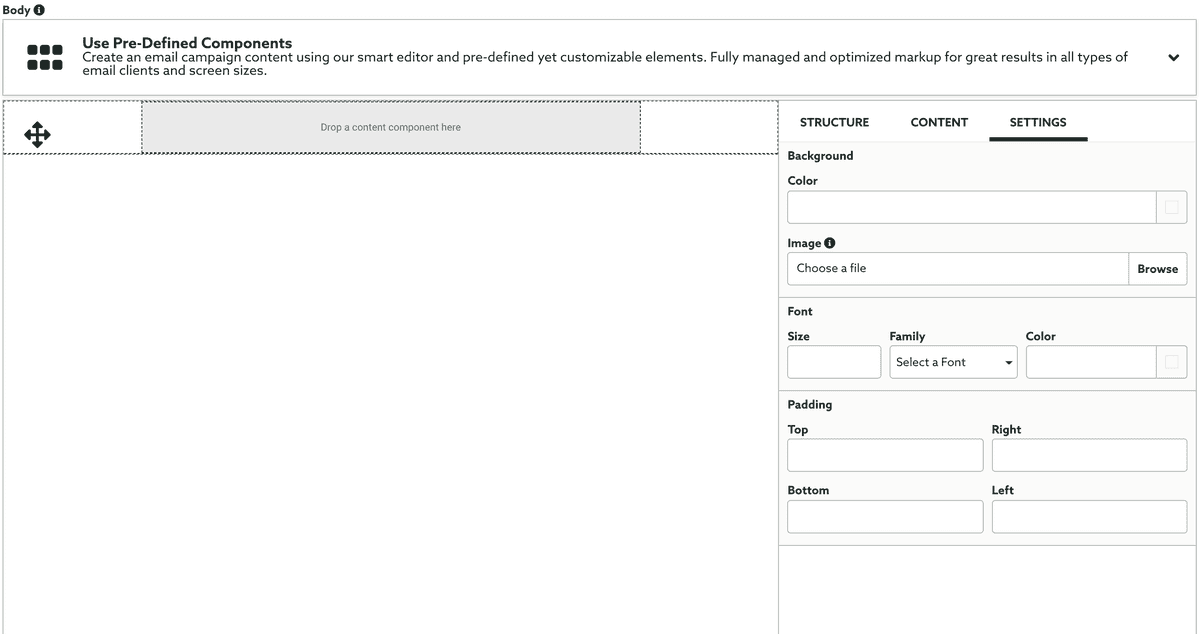 Of course, you are also able to use your own HTML templates if you want: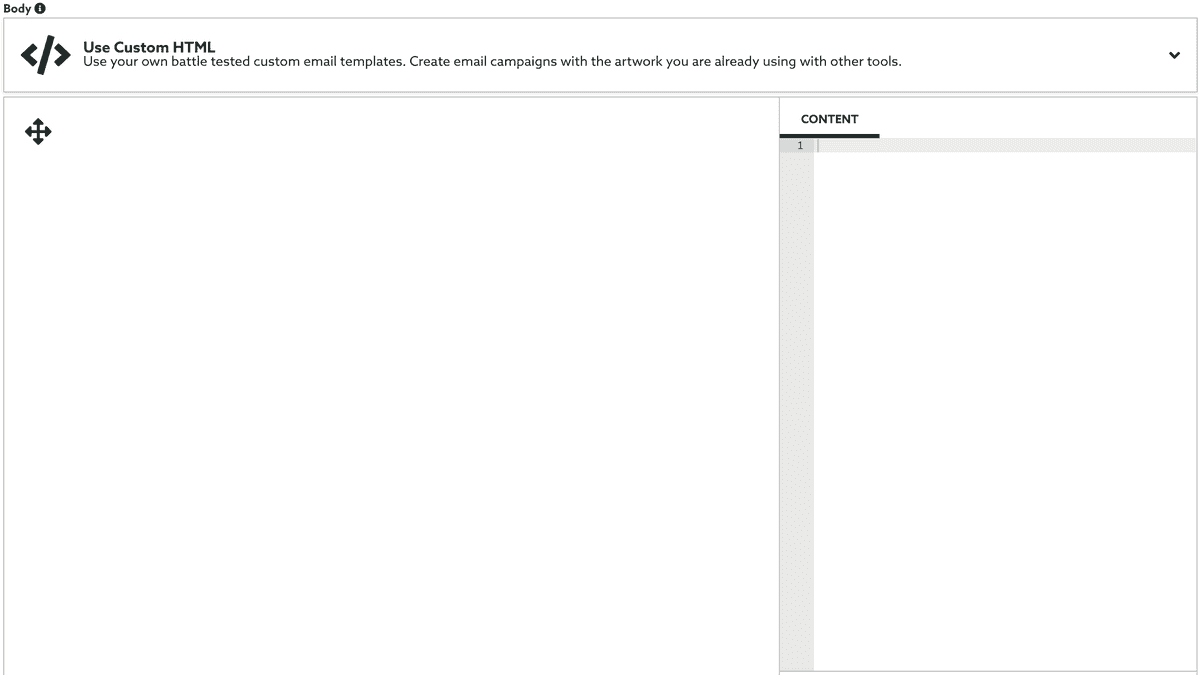 No More Mailing Lists
In Notificare the concept of mailing lists does not exist, instead you are able to categorize individual email addresses using Tags and assign email addresses to existing user profiles. You can then reach your contacts via our audience selection features which will allow you to create targeted campaigns. Contacts can also be created individually or imported in bulk via our dashboard and API.
Metrics
We will also gather performance metrics pretty much the same way we do for Push messages, allowing you to see exactly who received and opened your campaigns. If your messages contain links, we will automatically calculate the click-through rate.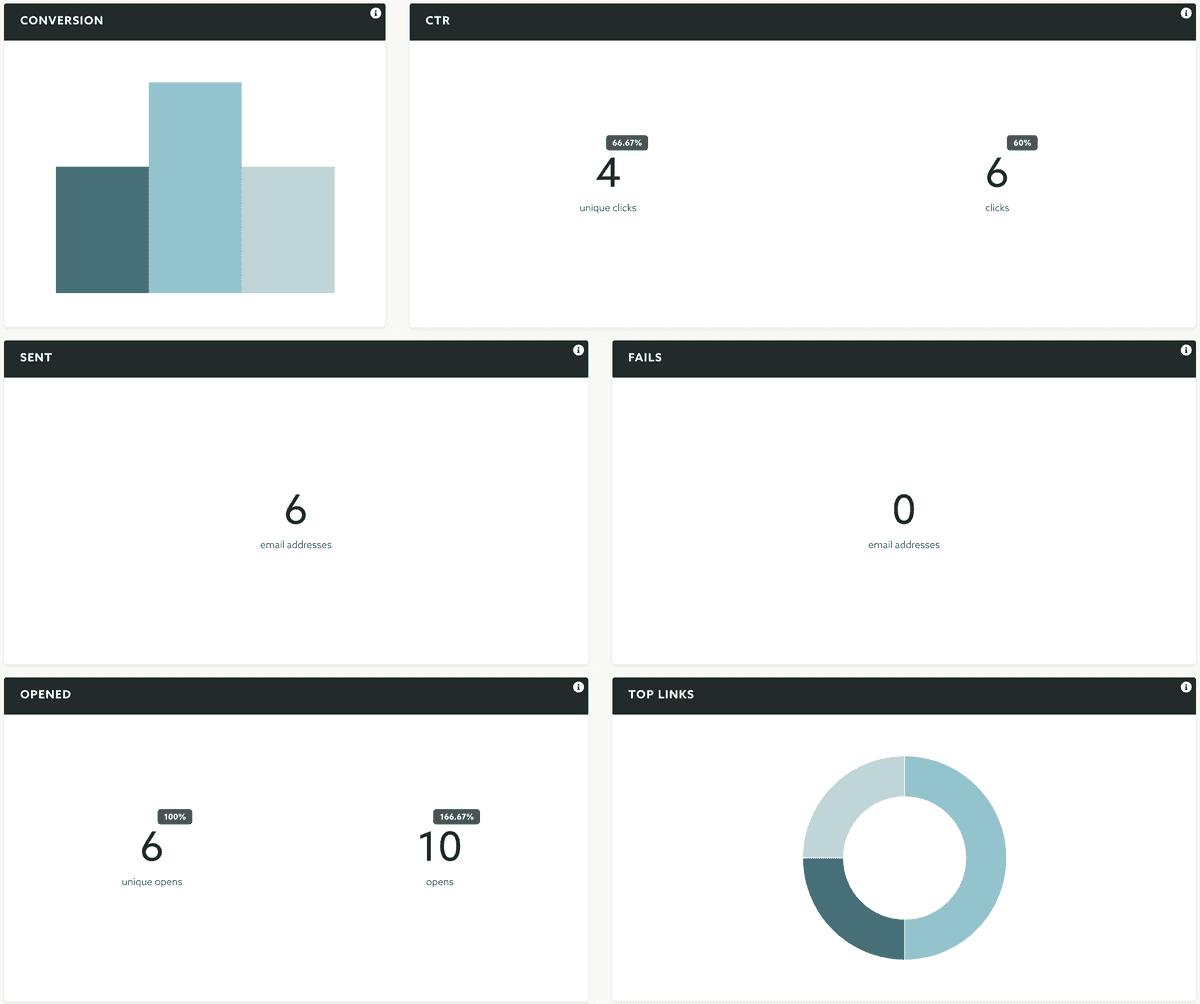 Subscription Forms
To help you accelerate the way you capture email contacts in your website, we are also providing fully customizable forms that you can quickly embed in any web page. For that we are providing you with a wizard where you can pick a type of form, style it or configure it to fit your needs. Then you can easily use the auto-generated code in your own website: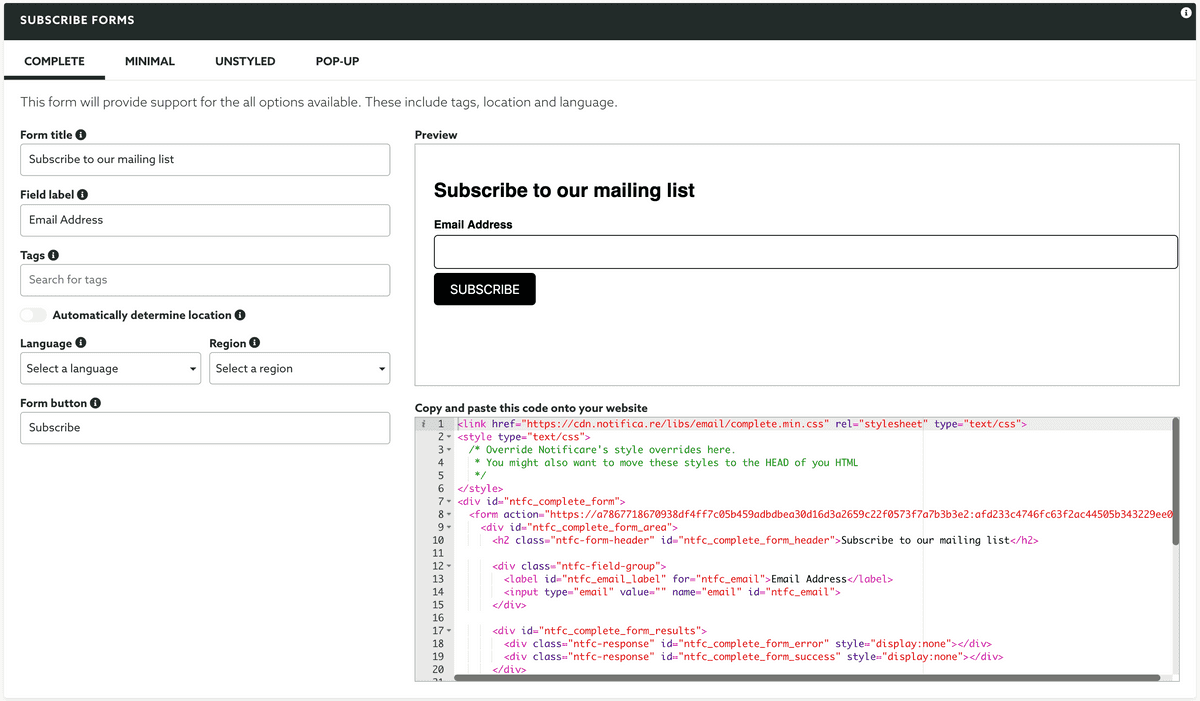 Highly Configurable
We are also including highly configurable settings to make sure your messages and opt-in/out mechanisms are put in place with minimal effort. To start using this functionality, you will need to provide us with a domain and a sender address which we should use to send messages in your behalf. After successfully validating and configuring your DNS, you will be able to start creating email campaigns via Notificare as if they were coming from your own servers.
You can also configure everything concerning your users opt-in and opt-out process. Easily create a localized experience that takes care of sending a fully customizable opt-in message and redirects users to your own website when they join or unsubscribe as an email contact.
SMS
This is probably the most personal channel you can use. SMS is also been around for over 20 years, it's a protocol that even the oldest mobile device supports and requires nothing more than 140 characters of text to create a powerful interaction with your customers. It's the ideal channel to use for transactional messages, things like order status or shipping updates. But it's also a great channel if you are looking to optimize your marketing campaigns.
Pricing for each SMS message is based on the destination country you're sending messages to. For more information about pricing please check our pricing calculator here. Like mentioned before there are discounts available for high-volume or committed usage.
Quick & Easy
In Notificare, it's pretty simple to create multi-language SMS messages in our straight-forward composer:

One-Way Branded Messages
If you're looking to create a branded experience, it is possible to use Alphanumeric Sender IDs. When available (not all countries support this feature and some require a pre-registration), you can use a combination of letters and numbers (A-Z, a-z, 0-9) up to 11 characters to tailor your SMS messages.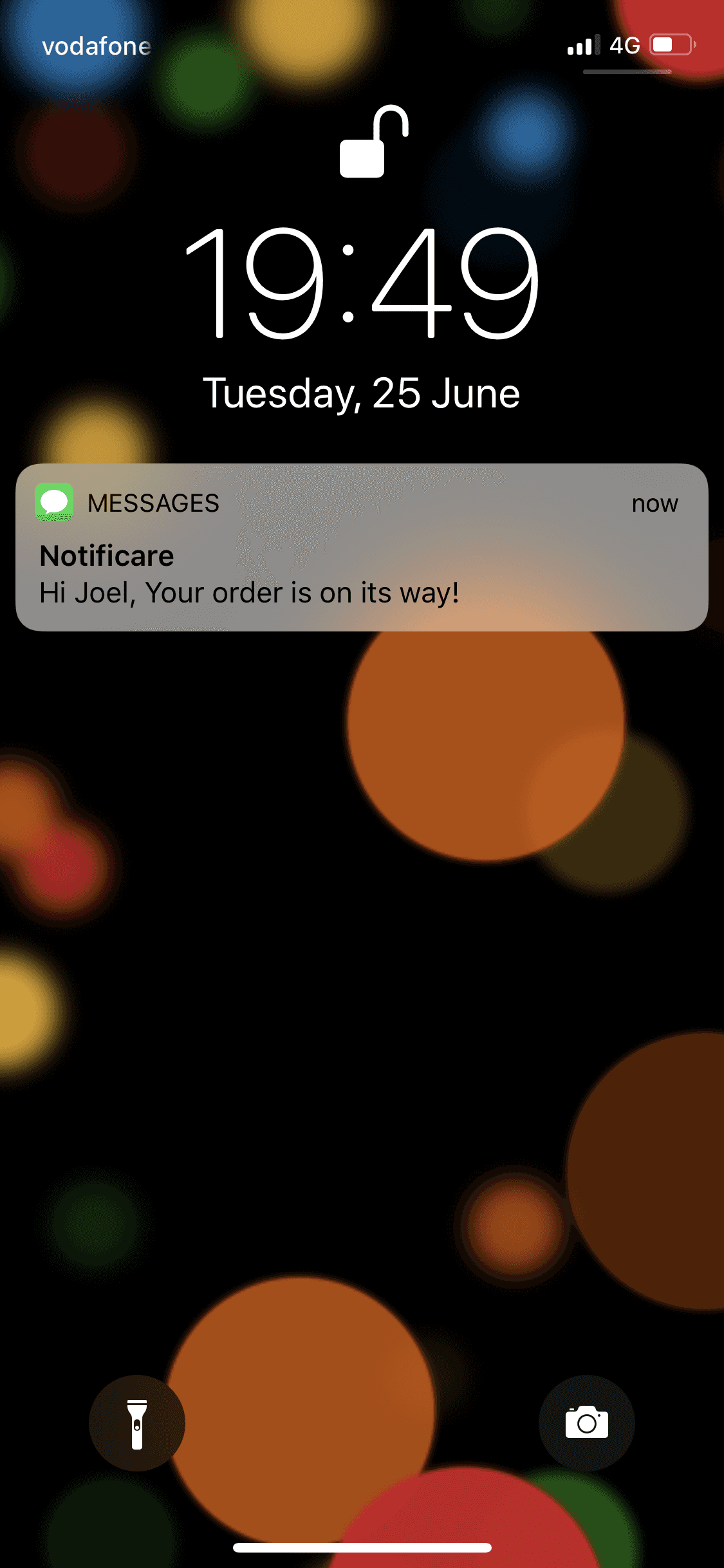 Using Short links
Although SMS messages only support text, you can take your content further by including Links, our short link solution. These links, which can redirect to your own URLs or provide a self-hosted solution for landing pages, are perfect if you are looking to maximize the 140 characters limitation of your message but still provide engaging content or other useful information.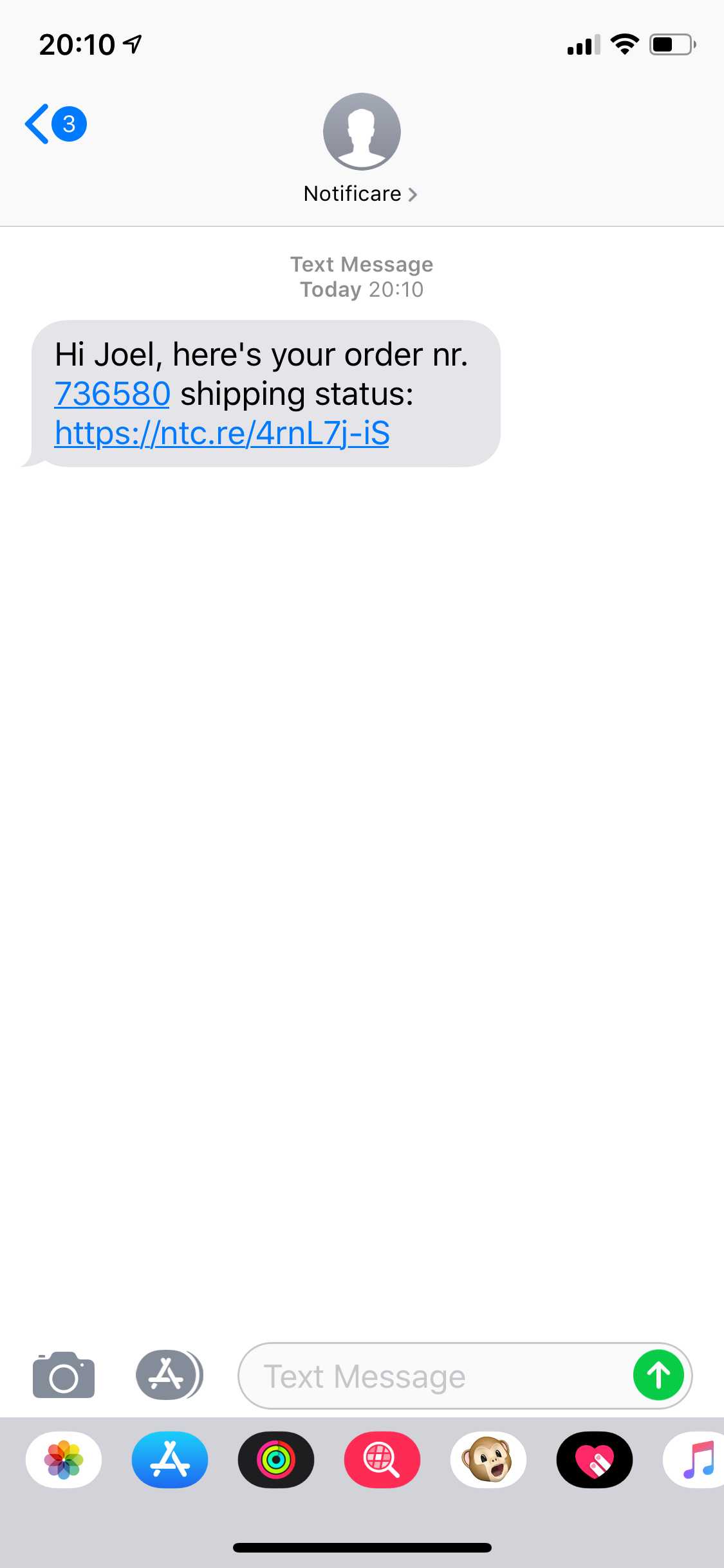 This is also a great way of working around a technical limitation of the SMS protocol. Although we can retrieve, with certainty, information about the delivery of the message, we are not able to gather information when users open these messages. This means that using Links (or any other short link provider) is the only way to track any kind of interaction your customers have with your SMS messages.
Buying SMS Numbers
In order to send SMS messages, each app in Notificare should acquire at least one phone number. This is a monthly cost you should account for when introducing SMS in your marketing strategy. For each phone number you acquire, there is a limit of 10 messages per second. This means that if you're planning to send considerable amounts of messages as fast as we can, you should consider acquiring multiple phone numbers. We will then make sure your messages are queued and handle carrier nuances in every country so that you do not have to worry about anything else.
Phone numbers can be acquired via our dashboard. You can simply select which country you wish to buy a number for and select all the numbers you need: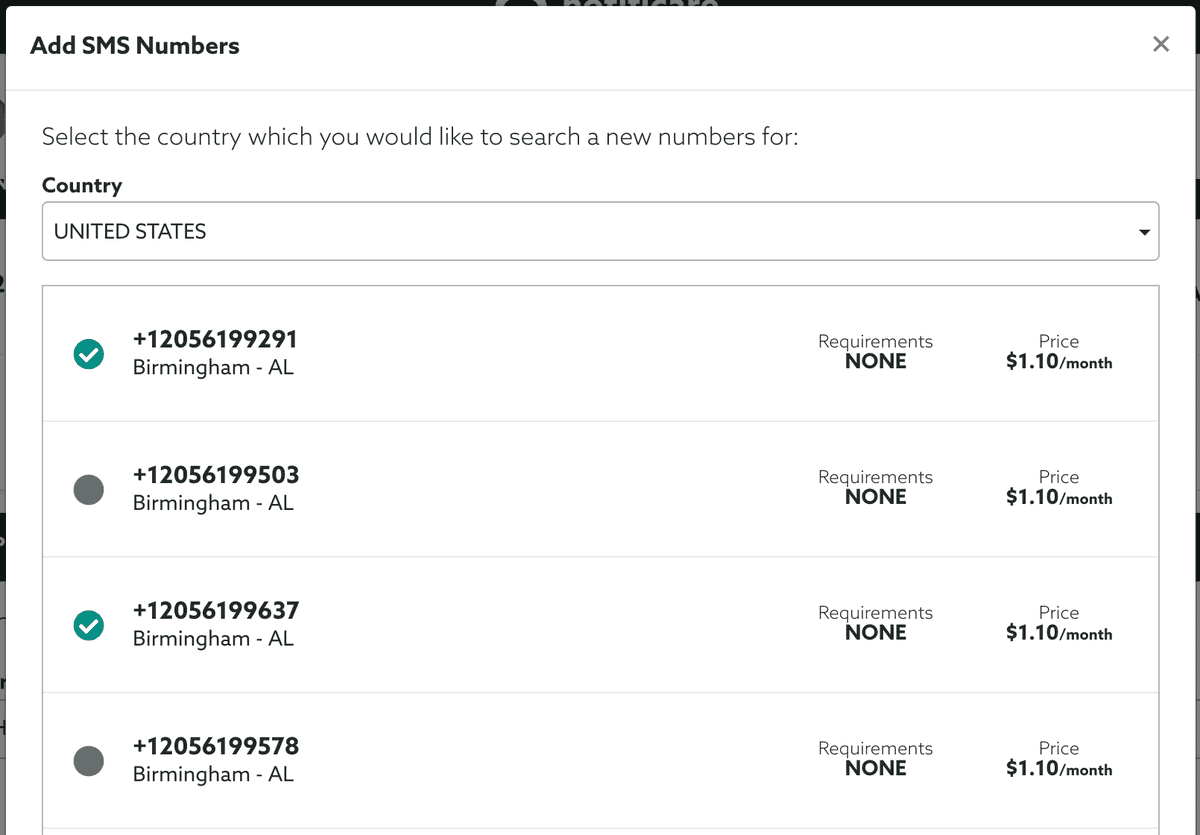 Leverage Other Great Features
These new channels will also benefit from all the mechanisms already in place in our platform. Pretty much like in push notifications, email and SMS messages can quickly harness things like:
Granular audience selection
Multi-language campaigns
Event-driven automation
Multi-message Campaigns
Bulk message delivery & scheduled tasks
Can I use it today?
Yes, although we are still under a beta period, this functionality has been under testing internally for some time. We are now looking for partners or customers with real-world apps willing to become early-adopters. During this period, we are open to listen to your feedback and introduce changes as we see fit. You will need to request access to these services though. This can be done via your app's Settings > Services > Email and Settings > Services > SMS areas.
Ready?
Start today exploring how you can combine email and SMS with your current Push strategy or simply as standalone channels. As always if you have any questions, we are available via our Support Channel to guide you further.