Channel orchestration for order notifications

An omnichannel approach for retailers that leads to more loyal users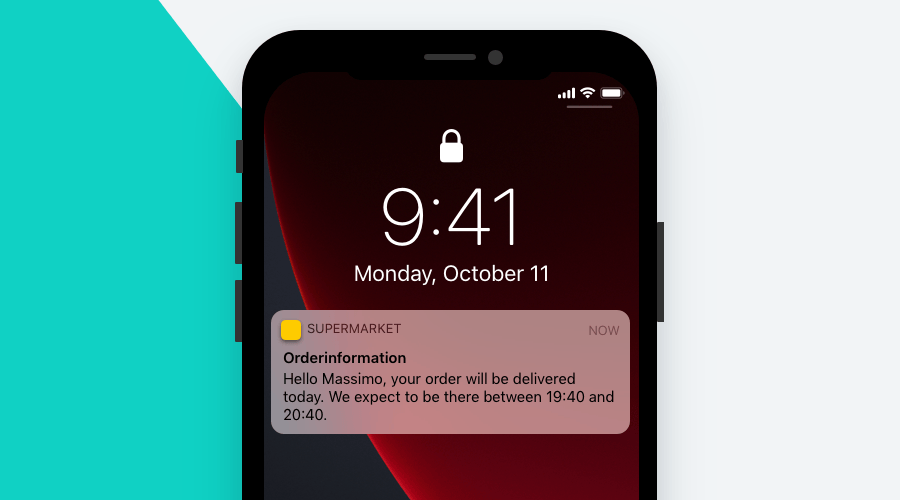 One of the challenges retail marketers are currently still facing is actively justify the value of their mobile apps. Despite that, we know that the app is now vital because:
App users spend more

With higher frequency

And are more loyal to your company
Increase app usage
Every message that leads to the app should contribute to engagement. As frequency increases, users use the app more often. So even order notifications will contribute to retention. Thus promoting app usage during a purchase is beneficial.
There are many opportunities to persuade non-app users to download and start using the app, for example:
Campaigns targeting specific non-app customers;
After receiving your order update via SMS, promote app download on the Track & Trace page;
Promote app download in every service email & special offer email;
And always refer to download the app in their online account.
Push, Email, SMS
Push notifications for order statuses are more effective than sending them over email. Nevertheless, the Email channel is still great for a detailed overview of the order and invoices.
In addition, implementing an in-app inbox will guarantee that the user can retrieve essential messages sent over the push channel just like those in your email inbox.
The SMS channel has the most effective reach but has fewer capabilities compared to Rich Push Notifications. Also, the SMS channel involves more variable costs. Hence, convincing your customers to use the app with an opt-in for push notifications reduces costs and provides more features.
Offer Channel Selection
Customer engagement is the ongoing interactions between the retailer and customer, offered by the company but chosen by the customer. So for certain types of communications, you want to enable channel selection for your customers. So they can be in control. Besides providing this feature in your user's preference center, you can also ask for it at specific moments in the customer journey, for example, just before subscribing to a service message. In a previous post, we've explained the use of a Message Preferences Center.
Additionally, you can also respond to user behavior. If your customer never opens an email, you might want to switch channels for these messages.
Service messages where push notifications stand out:
Welcome! We've got these tips for you!
A reminder of abandonment;
Thanks for your order!
Messages regarding undeliverable products;
A reminder about opportunities to change your order;
Delivery information (track & trace link) / pickup (time and pickup ticket);
A message just before a delivery arrives;
A push notification after the delivery or pickup with information about the completion;
A push notification after a few days with tips and tricks for smoothing their following order;
Links - Connecting the dots
Notificare offers Push, Email, and SMS as messaging channels. This enables users to have a seamless experience across channels. Notificare also offers Links, a solution that always takes the visitor to the right place across multiple channels.
These Links offer many advantages:
They are short and therefore take up little space in a message. This is of great benefit, especially when using SMS, because of the limited number of characters. Take UTM codes, a standard link would take up a considerable amount of space;
One single Link can point to different target URLs by simply recognizing the device from which the link is clicked and thus lead users directly to your app, the Google Play/App Store if they don't have the app or ultimately to a fallback webpage (for those desktop users);
Clicks on a Link enable the opportunity to attach a direct automated follow-up action to them, such as a thank-you message;
You can automatically segment users when a link is clicked, e.g., later on, this can be used to exclude users from a reminder SMS/Email;
When a Link is created, a QR code is immediately generated so you can use it in offline channels such as flyers or posters for app downloads;
In addition, this feature can also be used to create fully customizable landing pages.
Ready to take action on every order?
If you want to transform a purchase into a loyal customer, Notificare has all the tools you need.
By making smart use of push notifications and by taking advantage of its effectiveness as a marketing channel, you can save on SMS costs and reduce email pressure.
Use Notificare to build a Message Preference Center allows customers to be in control.
With our platform you will also gather valuable insights and design more effective marketing automation solutions that ensure that each customer can enjoy the best communication on the channel that works best for them.
And to create the proper flow and have the channels work together seamlessly, just replace every link with our intelligent Links.
Feel free to contact our Professional Services team to guide you into a whole new view on order notifications.