Drag & Drop your way to responsive email

A Powerful Drag-and-Drop Editor that supports MJML for beautiful responsive emails.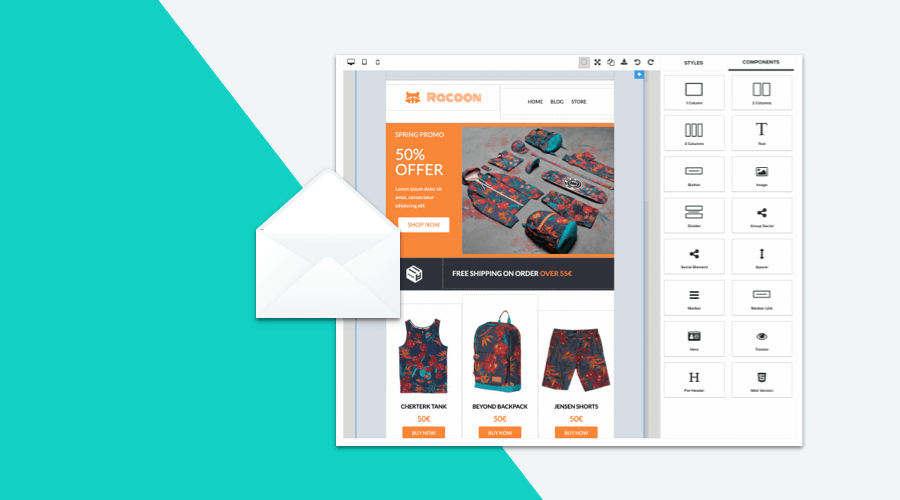 For marketers, email design has been a challenge since the 1990s. This is due to the limitations imposed by a large number of email clients. And with the advent of mobile, another challenge has arisen. Responsive email is the norm, which you, as email marketing specialist, should take into account. But what if you do not have much knowledge of HTML? Then a visual What-You-See-Is-What-You-Get (WYSIWYG) editor offers a solution. Combine this with a modern interface that allows you to easily and effectively set up a new design, and you get the new Drag-And-Drop editor from Notificare. With this, every marketer is a pixel-perfect designer!
Responsive emails explained
As early as 2009, responsive emails were introduced, and ensured that your email campaign looks great in every device it is viewed on. Whether it's a desktop, smartphone, or tablet, the recipient gets a consistent experience with responsive emails. The same goes for a website, but with email, there is an additional challenge. While websites are viewed in browsers that quickly adopt the latest technologies, an email is displayed in an email client which in some cases does not adhere to the latest technology and standards. The final testing of your email is therefore super important, but before that, the development of a flawless template needs to happen.
Drag-and-Drop designer
In this previously published article, we already wrote about MJML as a modern tool to create responsive emails with limited coding skills. MJML simplifies the complexity of designing responsive emails. Using a syntax very similar to HTML that generates all the pieces and bits needed for a proper responsive email message. MJML tags are high-level components that will be translated into responsive HTML by the MJML CLI, API or Javascript modules.
However, with MJML, you still have to dive into code and you don't always have the time or knowledge for that. Our drag-and-drop composer is not only super user-friendly but also fully compatible with MJML.
In recent years, email has become so much more than plain text. You want to get your message across in the best possible way. The layout, a pre-header text, a visually beautiful structure, images, heroes, and a footer are essential. Additionally, you want your emails to convert well and create a seamless experience for the user.
With the new easy-to-use drag-and-drop interface of our Notificare Components editor, you will effectively compose messages from scratch in no time.
You can get a head start by selecting a template or by creating your own layout and structure by dragging pre-defined Components to a responsive grid system. Choose from 1, 2, or 3 columns which can handle your content components. With these, you can choose text, buttons, images, dividers, social elements, spacers, a navigation bar with associated links, and a hero component. Besides those, you will be able to drag the tracker, pre-header, and link to the web version to your almost ready-to-go campaign.
After this, every part is customizable, allowing you to define (background) colors, dimensions, (background) images, typography, border styles, paddings, and much more.
The visual composer will also offer you a responsive preview while crafting your new template.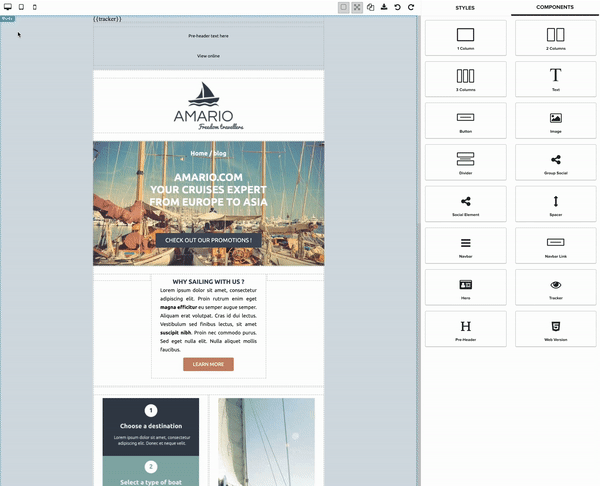 More than design
After you are satisfied with this effective way of your new appearance, you can save it as template. The template also contains other elements that will determine the success of your campaign. Email segmentation, personalized campaigns, and automated email flows are part of every (CRM) marketer's daily tasks.
Start Drag 'n Dropping
Do you want to create the most beautiful responsive emails for your customers? The new Drag & Drop composer is included in all Notificare plans. Our campaign experts can assist you in converting all your current templates to the new composer. Additionally, you can always contact our Sales Team to help you switch from your existing email marketing software to Notificare.